This is a school where you can acquire"the tools" necessary to pursue your own "passions" and "strengths".
We want you to live your life "independently"without being bound by fixed ideasrather than living a life that someone else has drawn.We want you to use your unique "passions" and "strengths"to take the wheel of your own life and connectwith unique individuals around the world to open up new opportunities.Eisugakkan is a school where you canacquire the critical skills you need to achieve your full potential in thisever-changing world.
Hello everyone, my name is Nagatome and I am principal of Elementary, Junior and Senior High School. I would like to talk to you about our school's approach to education and how we want you to grow. It is a bit long, but please read it carefully.
Studying only a knowledge-based education is outdated
There was a lot of discussion about the introduction of the Common Entrance Examination, which has become a major social issue. In the end, it was decided to implement the test in a form similar to the conventional Center Test, but the reason behind this discussion is the sense of crisis that the conventional knowledge-based education will not be able to develop humans who can create new values in a rapidly changing society.
The Japanese government is promoting a major reform of school education, and defining the three elements of academic ability that will enable students to excel in the future.
1. Knowledge and Skills2. Ability to Think, Judge, and Express 3. Attitude to Take Initiative and Work with Diverse People
As a result, there is a growing trend to actively do tests that evaluate the three elements of academic ability in a multifaceted and comprehensive way, not only in high school, but also in the selection process for university admission. This is evidence that the values that were once tied to "deviation values" are shifting, and that "diversification" is accelerating.
Diversifying Values and Forms of Happiness
In school, there are many questions that have only one correct answer. But what about in the real world? There are many things that people perceive differently as the right answer or success. Furthermore, not long ago, in Japan, everyone learned the same things, and even the way of thinking and values were standardized in education. Today, however, it is said that new values are created in the midst of diversification.
There is a limit to what we can do on our own. Therefore, I think it is important for us to live our lives by supporting others, or being supported by others and helping each other. At school, I think it is very important to discover problems on our own and find solutions by cooperating with others. In the process, you may come into conflict with opinions and values that are different from your own, but this is what makes learning alive and leads to the qualities and abilities that are required in a diverse society.
I also hope that you will not only measure whether or not a university is a "good university" based on its deviation score, but that you will also determine what value it has for you before entering a university. I hope that meeting more people will make you find your own "success" and "form of happiness" and you recognize how valuable it is to meet more people and take on various challenges while cooperating with them.
There are five things that I think are important.
1. Find your own unique advantage.
What do you like to do? What are you good at and what are you not good at? And what is your unique advantage? It's hard to say, isn't it? However, if you understand yourself and acquire your own unique competitiveness, you will be able to change where you stand in the future and what you see. Therefore, keep looking for what you like and what you are good at.
2. Know what excites you.
Have you ever experienced that you became good at something because you liked it, or that you became good at something because you were praised for doing it well? I'm sure you've been aware of your own "passions" and "strengths" through such experiences. However, what I think is most important is to know what "excitement" is. This feeling is the energy that drives you and makes you feel alive.
3. Think and act on your own belief
What do you do when you get home? Do you have a snack, study, play games, or take a nap? Is it possible that some of you have parents who decide everything for you? In your daily life, you will make some small decisions and some big decisions that will affect your life. Through such experiences, it is necessary to acquire the ability to make decisions and take action to take the wheel of your own life and live as you wish. Sometimes you will need to make decisions that take detours, but it is very important to think about what you are going to do now and take action in order to carve out your life.
4. Have friends around the world
Japan seems to be a very affluent country with an abundance of food and daily necessities, but can we really say that it is affluent in the true sense of the word? In most cases, we depend on foreign countries for raw materials, processing, and assembly. In today's society, it is difficult to solve problems with just one country or one individual, so it is important to have friends all over the world. That is why we need to recognize each other's diverse cultures and individuality, and to cooperate with each other. I would like all of you, who will be responsible for the future of society, to start looking at the world from as early as possible and make more friends.
5. Learn study approaches
When you study at school, there are textbooks and "what to learn" is written in them. However, in a society that is constantly changing, it is necessary to face the problems in front of you without a textbook and without the right answers. At that time, will those who have only just learned the "content to be learned" be able to cope with the situation that is happening before them? People who have learned how to learn from a young age will be able to think about what they need to do to compensate for the missing elements in any situation, and will be able to move forward while learning.
I want you to live your life "proactively" and "steadily" without being trapped by other people's biases instead of living the life someone else has drawn for you. I want you to use your own "passions" and "strengths" as one of your attributes, to firmly take the wheel of your own life, to connect with unique individuals around the world, and to open up new worlds.
Eisugakkan is a school where you can acquire "your unique point" to live in the world. I am waiting for the day when I can meet you all.
Satoshi Nagatome,
Principal, Eisugakkan Elementary,Junior and Senior High School,Hiroshima Kake Educational Institution
EISU Features
Here are five features of Eisugakkan.
Diverse Learning
Opportunities

International Baccalaureate educational programs that open doors to schools around the world, and English immersion programs that deepen learning through the use of English rather than simply learning English. Through international exchange and long-term and short-term study abroad programs, we prepare students to live in a world where they can create their own landscape.

Appreciation of
Different
Perspectives

By learning how to learn through inquiry-based learning that builds on input and output, including research, discussion, and presentation, on the theme of real social issues for which there are no single answers, students develop the ability to think and act independently and to be useful throughout their lives.

Value of Self-discovery

Students discover what they like and dislike, what they are good at and not good at, how they are different from others, and the axis of their interests, and develop the ability to demonstrate their unique individuality.

Flexible Learning Environments

In addition to on-campus face-to-face learning and technology-based online learning, we emphasize the creation of a hybrid learning environment that incorporates real-life social experiences off-campus to nurture students' zest for life.

Diversity, Excellence, and Professionalism

Professional teachers from around the world serve as teachers, facilitators, mentors and coordinators to support students in learning how to learn.
EISU in Numbers
This section explains the results of higher education.

THE World University Rankings, published by Times Higher Education, is said to be the most used university rankings in the world. The rankings are based on 13 indicators in five fields: "teaching ability," "research ability," "number of citations (research influence)," "internationality," and "income from industry. The ranking is based on 13 indicators. At Eisugakkan, we use The World University Rankings as a benchmark in our academic guidance in the hope of nurturing students who can live their lives with a sense of self in an uncertain global society. The entire school is committed to providing students with the guidance they need to succeed in their first choice. With the change in the university entrance examination system, the exploratory style of learning has taken root and the attitude that students want to go to a university where they can learn what they want to learn, not just the deviation score, has become more prominent. In addition, the range of students, especially those in the IB class at the high school, who have been accepted and are going on to universities overseas is also expanding.
[Reference] Japanese version ranking: No.1: Tohoku University, No.3: The University of Tokyo
Schools
Eisugakkan offers an "Integrated" Elementary, Junior and Senior High School Program.
Immersion Class
This class combines an English immersion program and the International Baccalaureate Primary Years program. By developing English skills naturally, and through transdisciplinary and inquiry-based learning, students will be able to learn independently, collaboratively, and in-depth, thereby improving their problem-solving and other qualities and abilities, and developing them to be constructively active in the world in the future.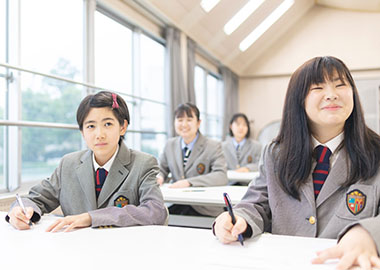 Immersion Class A
This class is for students who have been studying English since elementary school, or for students who have returned to Japan and have studied English in earnest from an early age. English, mathematics, science, social studies, and art are taught by foreign teachers, and students take classes in English.
Immersion Class B
This class is for students who want to learn and master English from junior high school. With classes based on the theory of second language acquisition and support from bilingual teachers, even beginners can expect to improve their English skills quickly and steadily.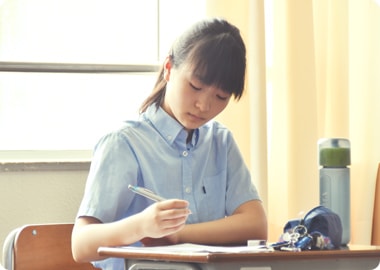 Advanced Class
This class aims to train students to become independent learners able to take charge of their own learning. By immersing in real-world situations provided by partner companies and universities, students navigate the challenges of the new era through inquiry-based learning.
IB Class
This class aims to develop global citizens who respect the diversity of cultures and perspectives in the world, and who are compassionate, lifelong learners. We aim to develop the "ability to think" and "willingness to collaborate" to be aware of and solve problems in the future society, and to advance to four-year universities in Japan and abroad.