Students aim to obtain the International Baccalaureate, which qualifies them to apply to IB-accredited universities around the world, and achieve a pathway to prestigious and competitive universities.
International Baccalaureate
Diploma Programme(DP)
The program promotes the "ability to think" and"willingness to collaborate" required to solve problems.
1
Developing the full potential of individuals
The IB program recommends that students become lifelong learners and globally-minded individuals. Students are encouraged to think independently, express their opinions, and engage in discussion and problem solving, slowly weaning from the traditional knowledge-based learning approach. Students are guided to improve logical and critical thinking skills.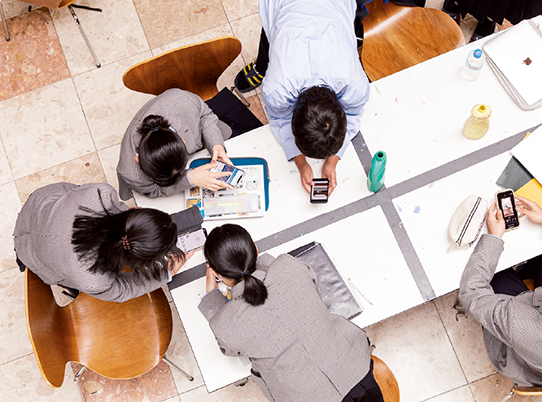 2
Entering a university with an International Baccalaureate degree
Students who obtain an International Baccalaureate degree are eligible for admission to universities in Japan and abroad. Students with an International Baccalaureate degree can take entrance examinations in top-performing overseas universities, and participate in the Comprehensive Selection and Special Selection Systems for returnee students held in Japan.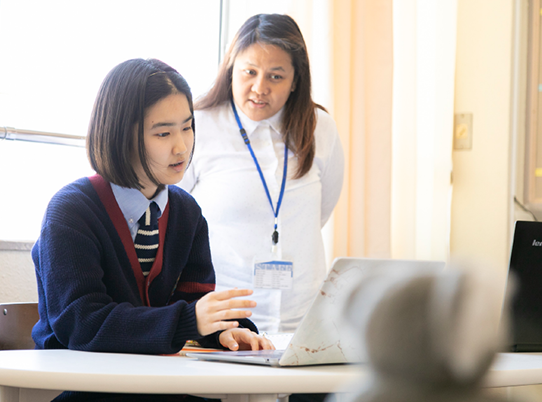 We aim to develop confident individuals who can survive independently in the new era, pursuing inquiry-based learning through a hybrid of online and classroom methods.
Advanced Program of Inquiry(AP)
Students pursue inquiry-based learningof our own "passions" and "strengths"
1
Leading students to their first choice of career path
Students make full use of an ICT device: "always a tool at hand". Students not only engage in inquiry activities, but also acquire the necessary communication skills and relevant social awareness knowledge. Through such a process, students learn to meet the requirements of the new university entrance examination systems, including the Comprehensive Selection System.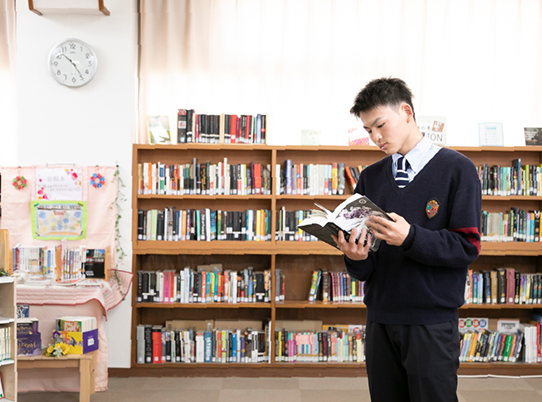 2
AI Learning for Math Classes and Online Conversation for English Classes
Students are provided learning opportunities that match their ability, aiming to improve learning efficiency and save a great deal of time. Students are able to pinpoint their weak areas in each subject, even from the Junior High School coverage, and relearn them, which eventually elevates students' abilities to where they can better understand the classes and enjoy learning.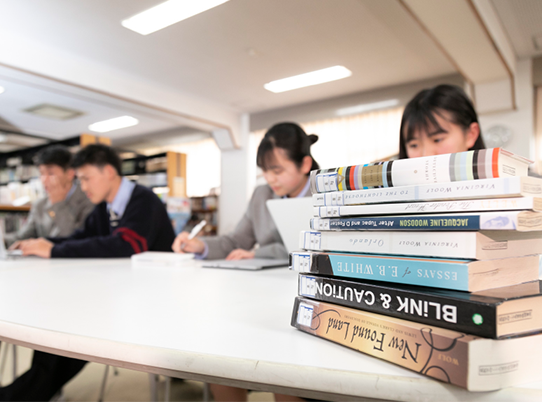 Eisugakkan Senior School
Activities
Here are some of the unique activities
at Eisugakkan Senior High School that enhance the students' joy
for learning!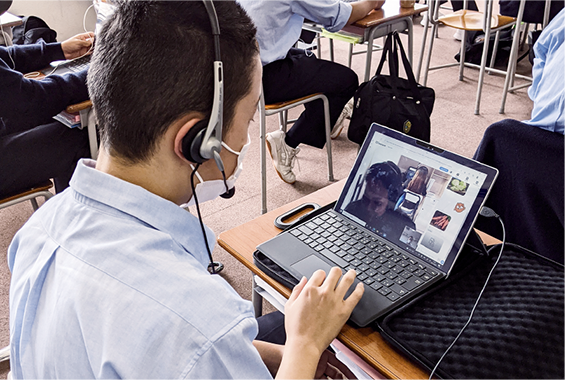 Speaking English online, "Class-live"
With this one-on-one remote learning system, students can learn how to speak English with native English speaking teachers abroad while students remain here in Japan. This online system seeks to improve significantly the four English skills successfully: reading, writing, listening and speaking.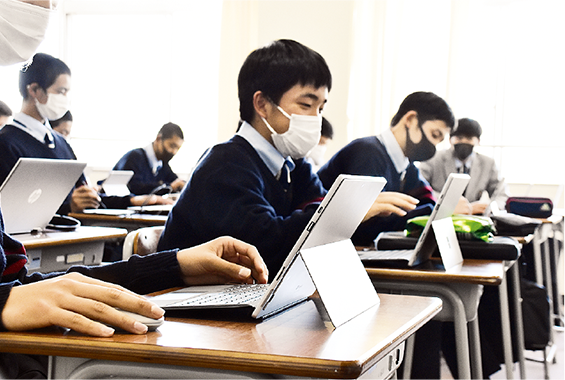 AI type teaching material, Qureous
AI learning systems are introduced to augment learning time. As an example, Qureous helps students optimize individual learning and promote efficiency as the AI works to match the learning contents with the students' academic levels.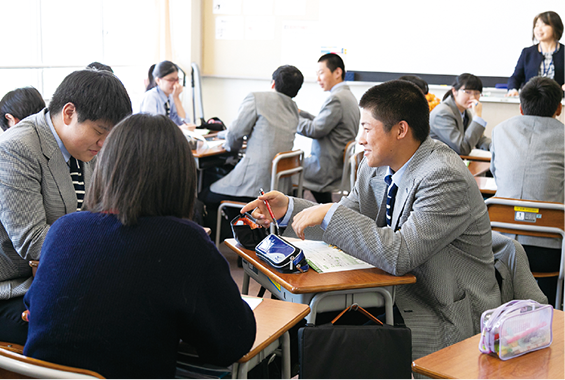 Media-enhanced education course, "e-NIE"
In collaboration with NewsPicks, students discuss and learn from each other's diverse perspectives on the latest news.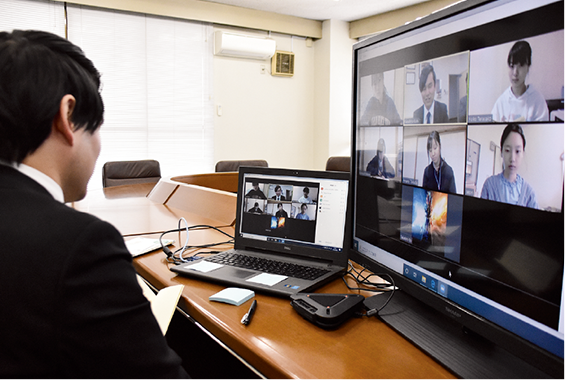 Never stop learning! "Online Classes"
Online classes are offered several times a month. Students attend classes anywhere as long as there is internet connectivity. Learning doesn't stop when the unexpected happens!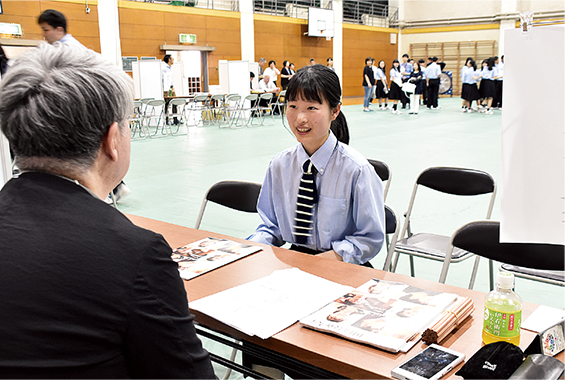 Prestigious universities participate in the "University Information Session".
Prestigious universities in Japan are invited to hold information sessions where students can hear about the university directly from admissions officials.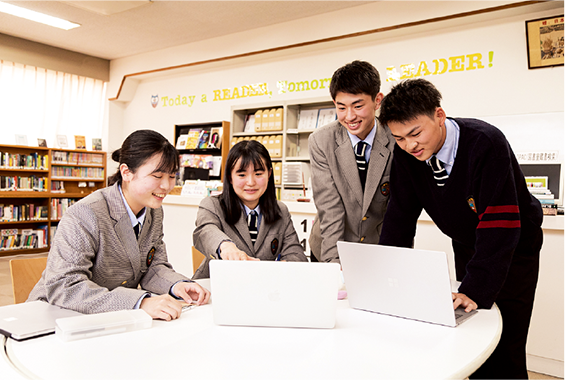 "EISU Seminar", theme- and inquiry-based learning
Students practice theme-based inquiry learning that deepens learning without predetermined correct or specific answers, starting from students' "passions" and "strengths".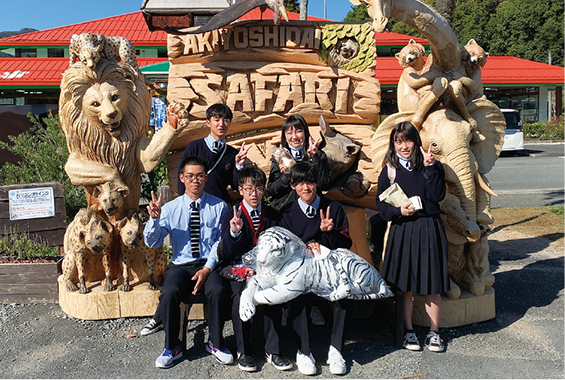 "Overseas Study Tour", learning locally
Not just a training program, it includes a pre-trip study to know, go and learn about the destination. After the overseas trip, students engage in a "debrief" to consolidate all their valuable learning experiences.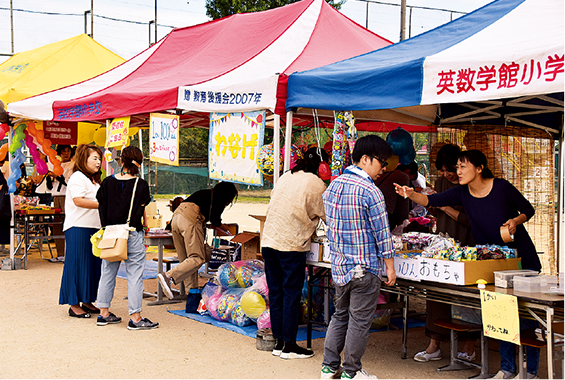 "Cosmos Festival", interaction with the local community
Festival events are planned by each class, booths are set up to liven up the venue. More importantly, the interaction with the local community is a cornerstone of this activity.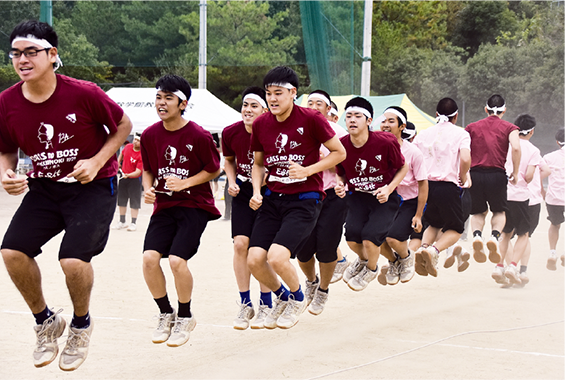 "Sports Festival", the No. 1 student favorite
This is the school event that the students look forward to the most. Each year, the students come up with their own sporting events and compete against each other in red and white teams.